Acoustic emission monitoring can be used to minimize critical machine damage due to accidental collision AND/OR used to improve the dressing process, greatly increasing wheel life.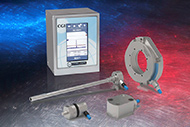 Air Gap Elimination
Dressing Process Monitoring
FFT Monitoring of Acoustic Emissions
Collision Monitoring with "Fast Stop"
Operation is simple and automatic
The D93a system uses acoustic emission sensor technology to monitor the machine's audio frequency levels during the grinding process or dressing cycle. This cost efficient solution uses one or two strategically mounted AE sensors interfaced with a 4.3" HMI touch screen controller to allow flexible set up and monitoring.
During the grinding process, the D93a system can be used to signal the machine for a wheel retract in a crash condition or signal the machine to transition from a high in-feed rate to a lower in-feed rate as the grinding wheel approaches the part.
During the dressing cycle, the D93a system will indicate the complete dress of the wheel, allowing for smaller incremental moves and elimination of costly overdressing.
The D93a system plots the AE signal in real time so the operator can see a visual representation of the grinding wheel condition.

D93a Acoustic Emission System (PDF)